Saturday, July 29th
St. Paul's Cathedral
Our London travel passes ran early on Saturdays, so we took advantage of this to get to St. Paul's Cathedral. It was breathtakingly beautiful, and so peaceful. Much of the ceiling was done in glossy mosaics of incredible detail and color. Cool marble floors echoed with the footsteps of the visitors. It is simply impossible to describe the beauty of this – and almost every other – place in England.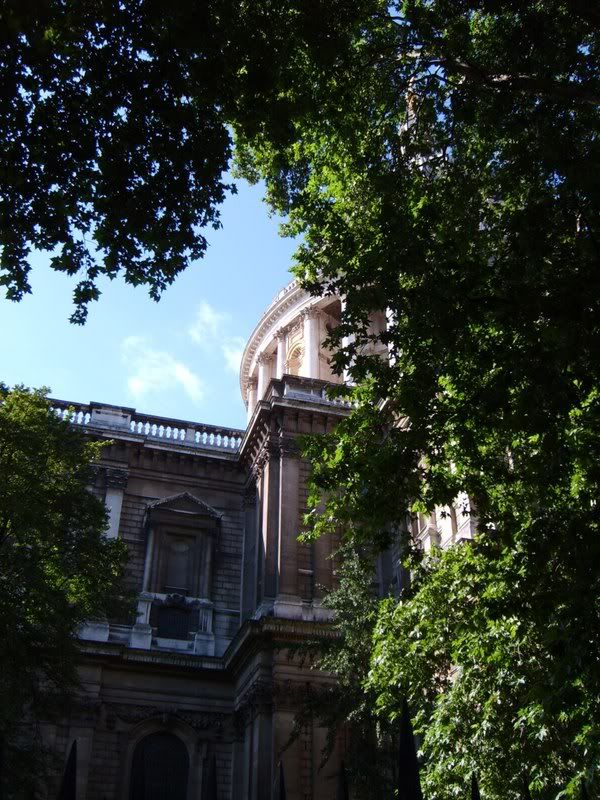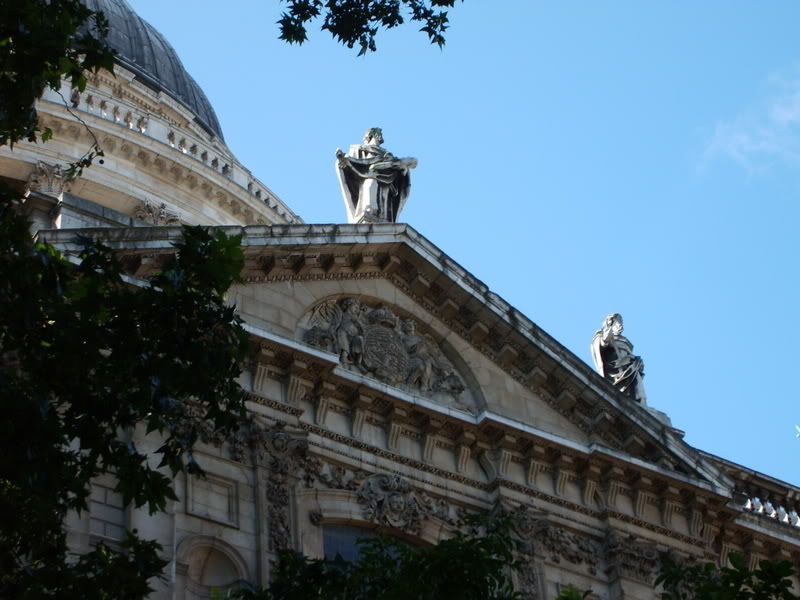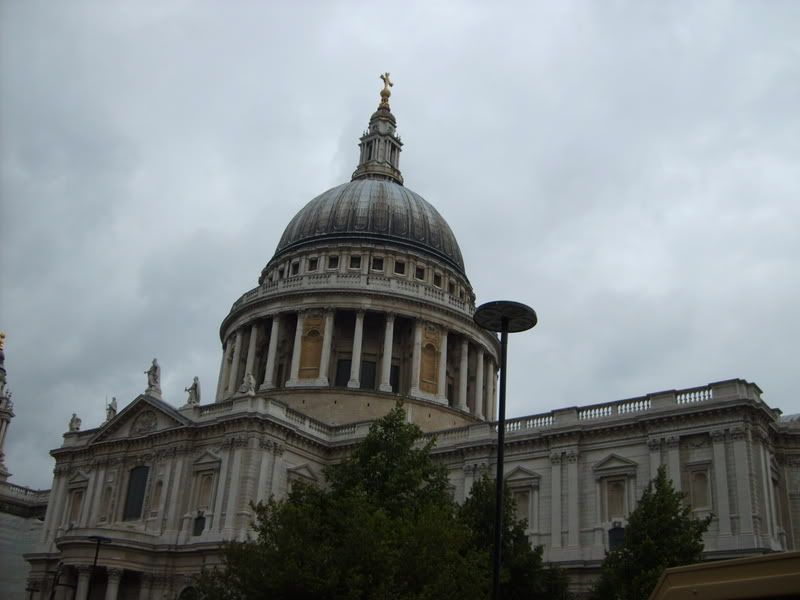 We climbed the stairs up to the Whispering Gallery, located at the base of St. Paul's legendary dome. After a short breather, we decided to continue going up. Many spiral staircases later, we reached the first observation gallery. But not content with our view of all of London, we decided to complete the tour and go up to the very top of St. Paul's – a total of 484 steps. The view was amazing (notice Tower Bridge spanning the river):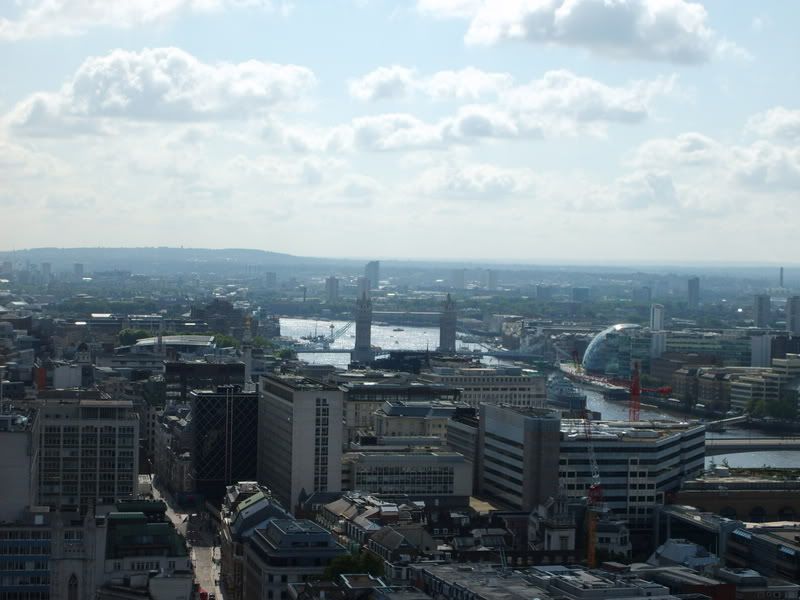 We even spotted the Globe Theatre just on the other side of the river: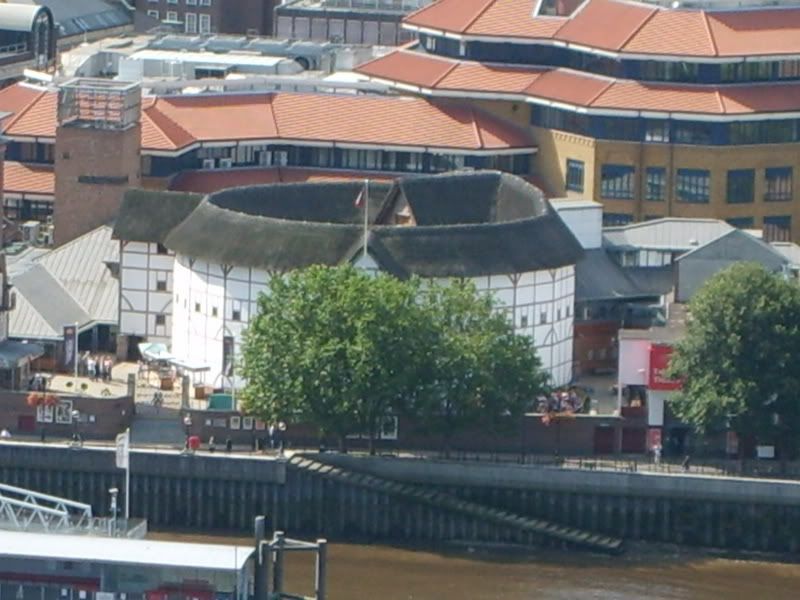 I don't know which was more frightening: climbing up all those stairs, or coming back down!
Shopping on Piccadilly St. and Oxford St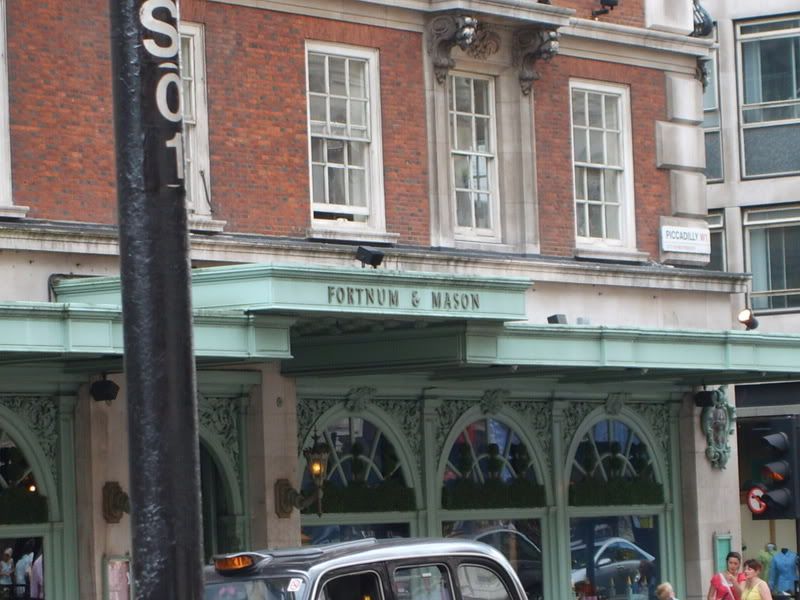 Some of our shopping destinations on Piccadilly St. included Fortnum and Mason (pictured above), fruitier to the Queen, and Hatchard's, which is the oldest bookstore in London. I wasn't sure what to expect at Hatchard's, since I knew that they sold new books – but the bookstore itself was delightful!
The inside has delightful curving staircases and little steps up or down when you least expect them. And so many books…They had an entire wall of P.G. Wodehouse.
Getting to stop at Laura Ashley's on Oxford Street was a real treat! Some of their clothing is just lovely, and we got many good ideas for project of our own.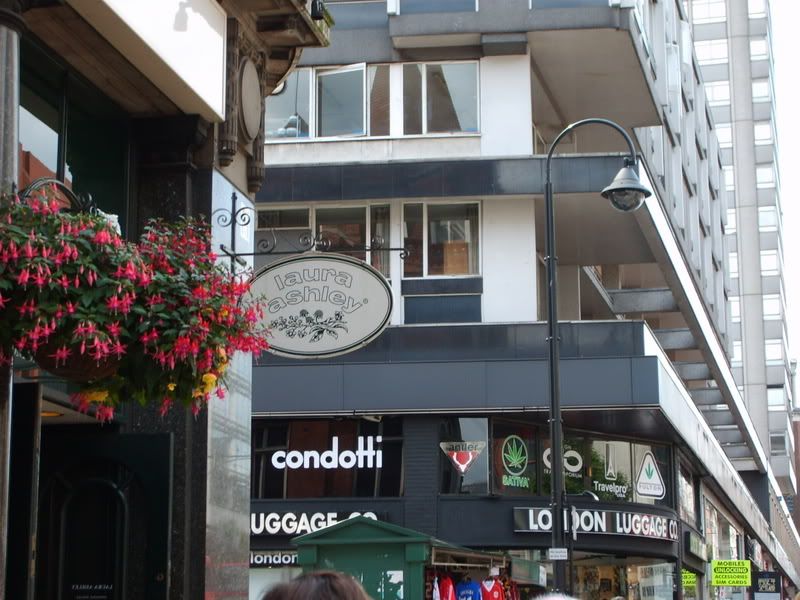 Just off Oxford Street is MacCulloch and Wallis, seller of fabrics and haberdashery. Delightful! And such beautiful fabric...*sigh*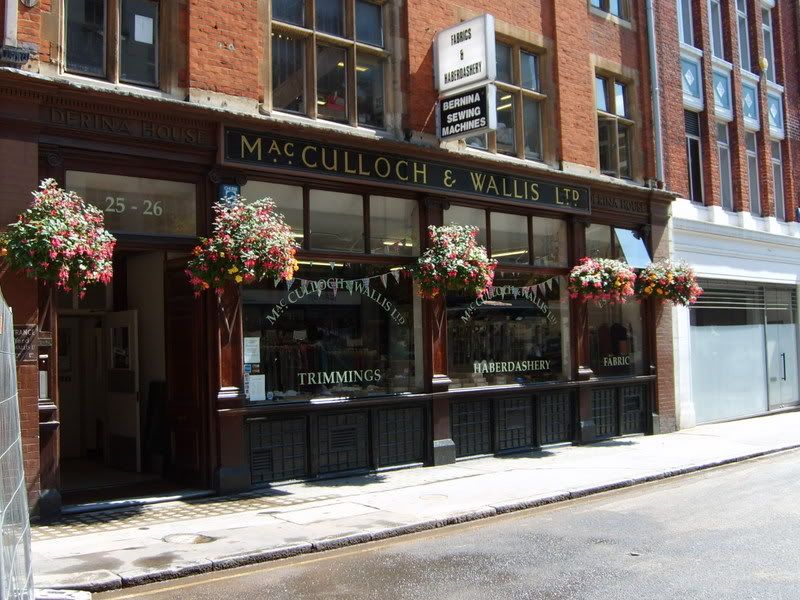 Another little shop, The Button Queen, proved to have more accessible (and transportable!) wares, so I contented myself with six little brass buttons with a medieval cross design as a souvenir.
Harrod's
We took the tube over to Brompton Road, located in South Kensington and only a few tube stops from our hotel. We stopped at Harrods and had a delightful browse through their very pricey items. You can pick up an almost-life-sized giraffe for only $5,400. The giraffe must have felt right at home, for Harrods could have been more aptly named "The Zoo" on the day we went -- it was the last day of their summer sale, and the food halls were absolutely stuffed with people. They did have some lovely marzipan fruit though -- and take a look at one of the chandeliers!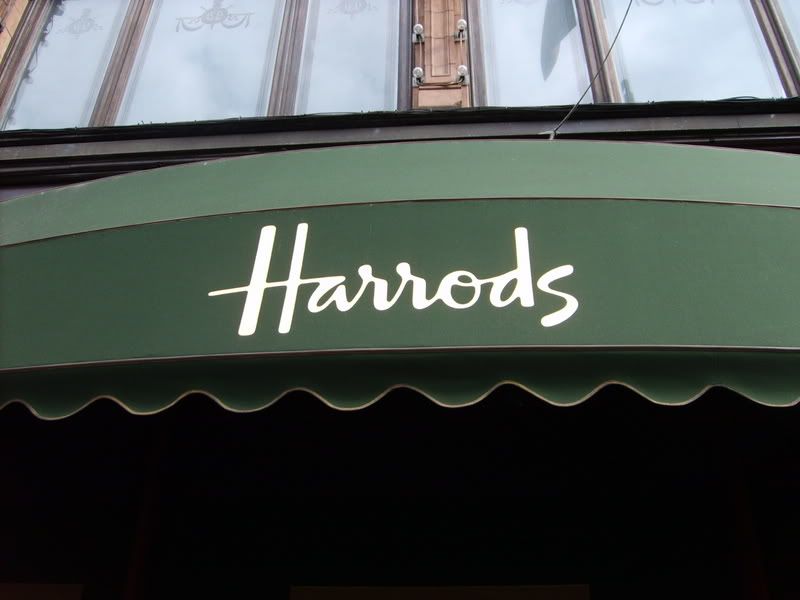 The Victoria and Albert Museum
We soon moved on to the Victoria and Albert Museum, which is within walking distance of Harrods.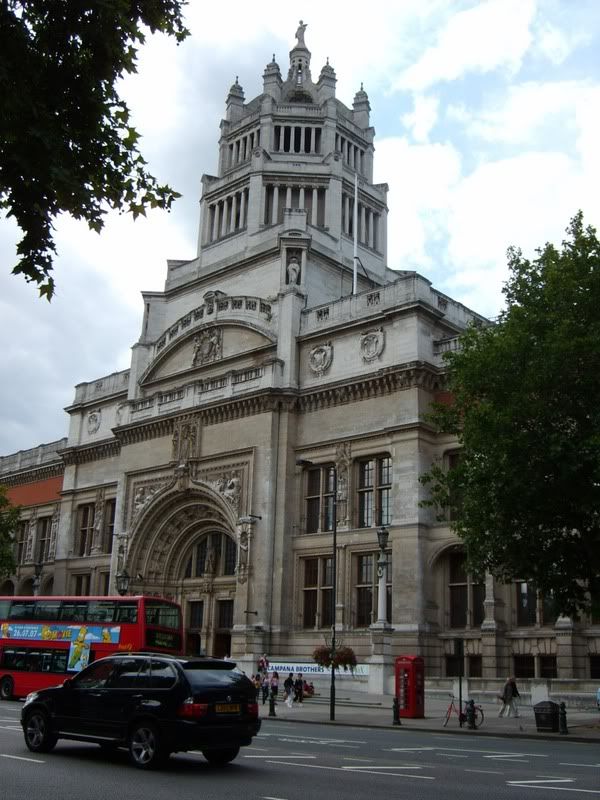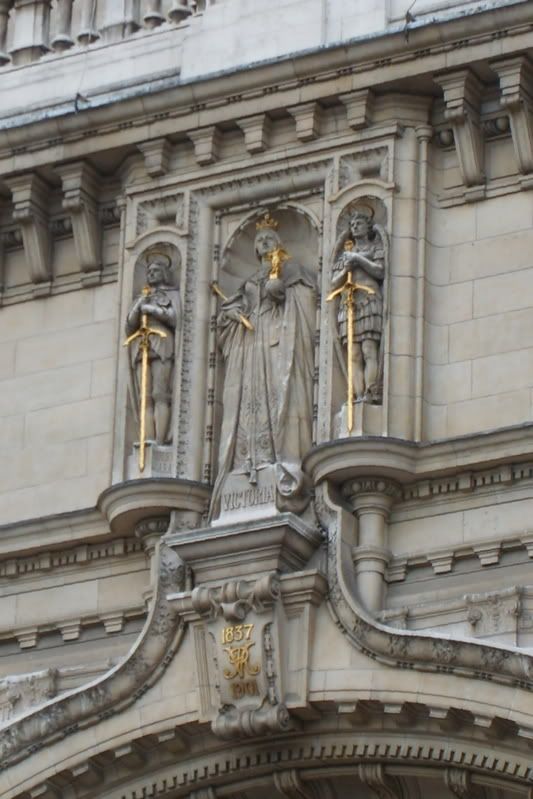 Tiffany and I had a delightful time drooling in the fashion exhibit, which housed garments from the 18th century on. Here are a few of my favorites:
A wedding dress from the early 1830's: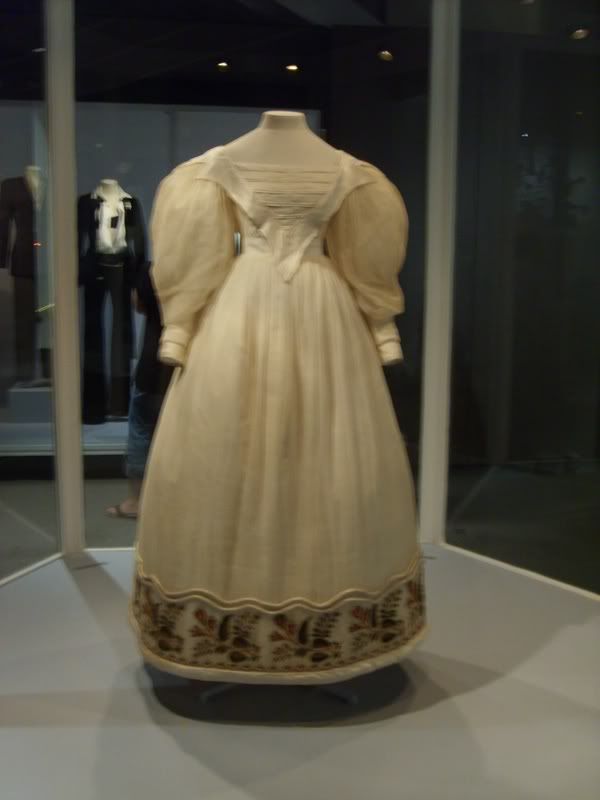 A peculiar day dress from 1820: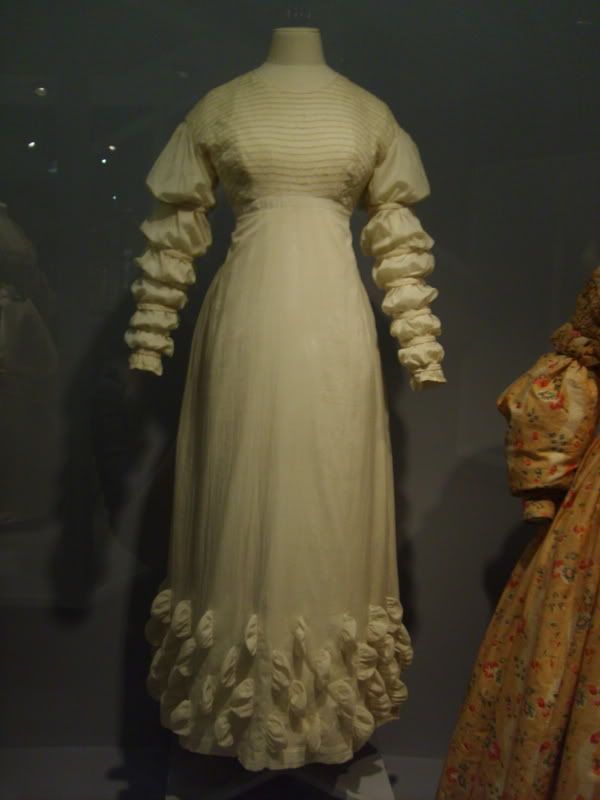 A sumptuous Worth gown from 1881: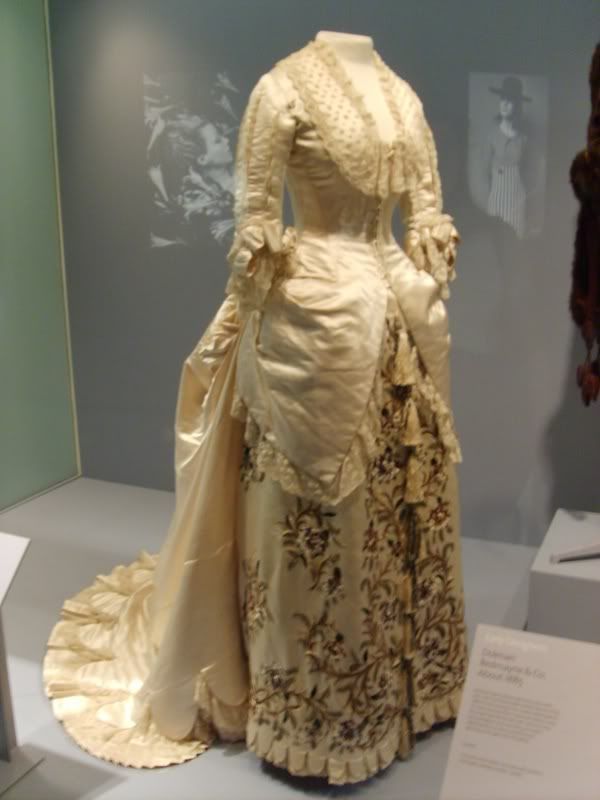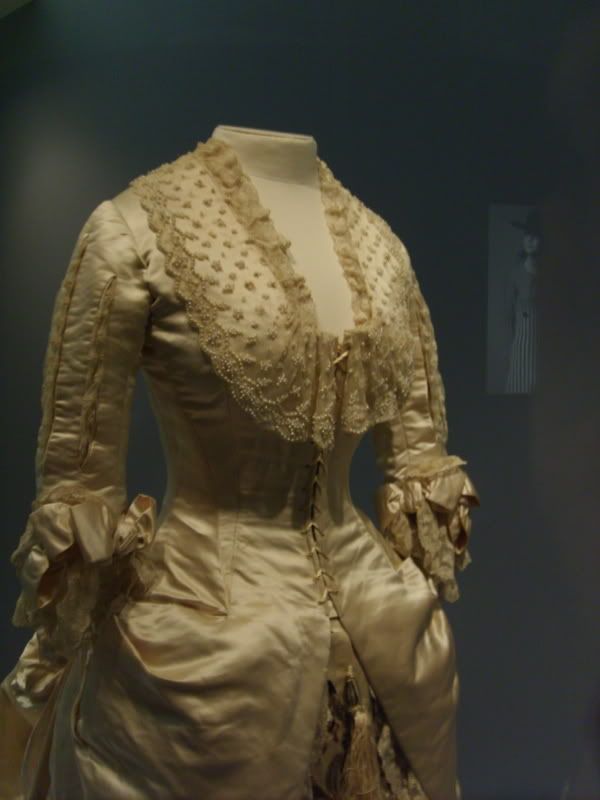 We went on to the other exhibits and marveled at the astonishing -- and diverse -- collection of items. The next day Mom and I returned to see the instrument collection – a spectacular array of harpsichords, hurdy-gurdies, violins, viola d'amores, guitars, flageolets, and even a Hardanger fiddle! Here is Stradivari violin: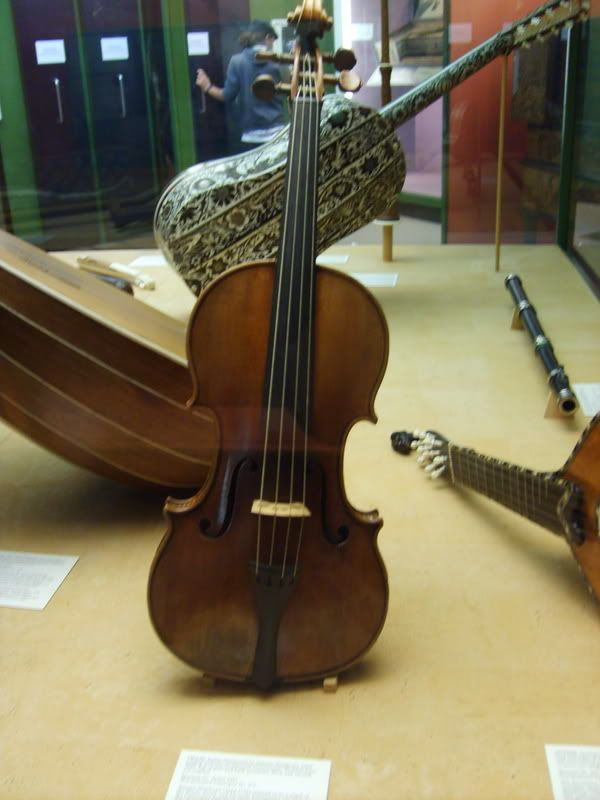 And last, but not least, a detail of the incredible glass sculpture "chandelier" in the main hall of the museum:
The Barbican
Mom managed to get tickets for that evening at the Barbican, where there was a concert featuring Chloe Hanslip playing the Beethoven violin concerto with the Academy of St. Martin in the Fields. It was absolutely lovely, and it has always been my dream to hear the Academy players. They played Mozart's Symphony No. 40 in the second half, and never before have I been so captivated by Mozart. I was humming it to myself for the rest of the evening. And people wonder why we love England so much...