Tuesday, July 31st
Pooh Corner
Hartfield is the little village where A.A. Milne and his family would come for holidays. A.A.Milne based the Hundred-Acre Wood on a real forest nearby. It was too late to find Poohsticks Bridge on the previous evening, so we had dinner at a local pub that had a delightful village flavor (both the food and the atmosphere!) before heading back to our B&B. We stayed in a converted hay barn, which had 4-ft. doorways upstairs. It was quite charming and, like every place we stayed in England, had facilities for making tea. Perfect!
In the morning we breakfasted at a manor once used as a hunting lodge by King Henry VIII! I must say, I was much happier to encounter the innkeeper's dog than I would have been to encounter King Henry...
We drove back to the village of Hartfield and stopped in at Pooh Corner. This was the little shop that Christopher Robin would go to with his nanny to get bulls-eyes (a hard mint candy). We had visited here when we lived in England, so returning here brought back a flood of memories.
While there, I picked up a copy of "The official Pooh Corner Rules for playing Poohsticks" by Mike Ridley. Some of his instructions include: "Find some food, Honey or an open tin of Condensed Milk will do -- probably both is a good idea." "Cheating -- This is when you release your stick too soon on purpose or throw it into the water. Serious cheating includes tying other competitor's arms together."
After our stop, we went in pursuit of Poohsticks Bridge. The walk from the "Pooh Car Park" took quite a while and was a bit confusing – but we knew we were on the right track when we found Eeyore's house!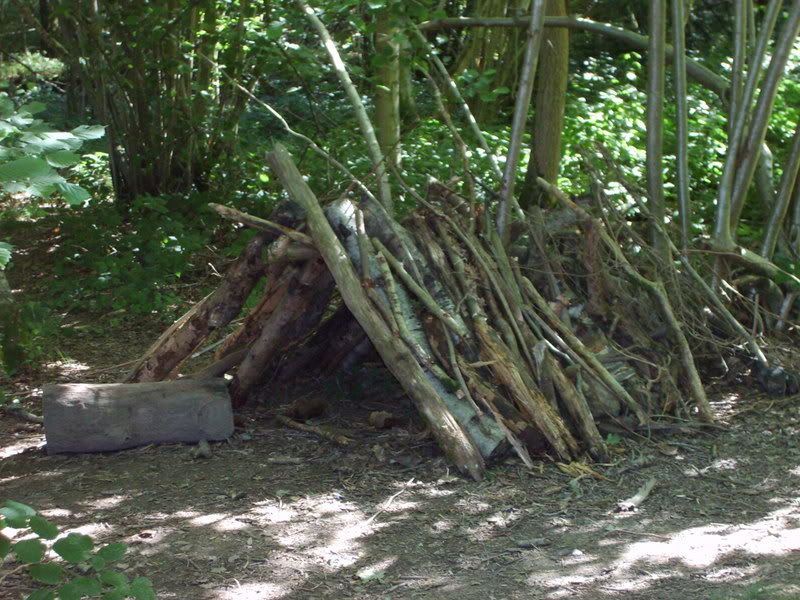 The morning was fresh and delightful, with the lovely rolling hills of East Sussex off to our left and a pretty wood on the right.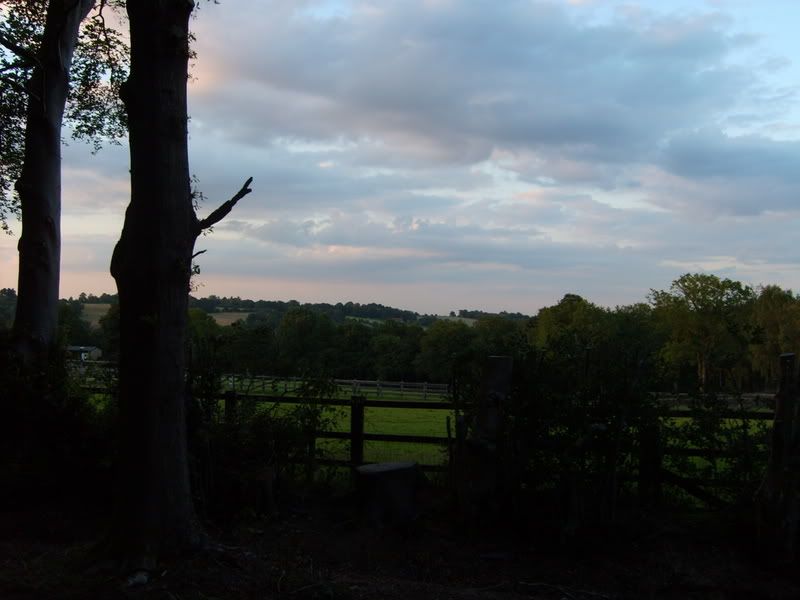 We finally reached the bridge and had a delightful game of Poohsticks. Notice that Mom gathered an absolutely enormous stick on our walk, with the intention of beating us -- by which I do not mean using the stick for disciplinary action, but rather attempting to win the game.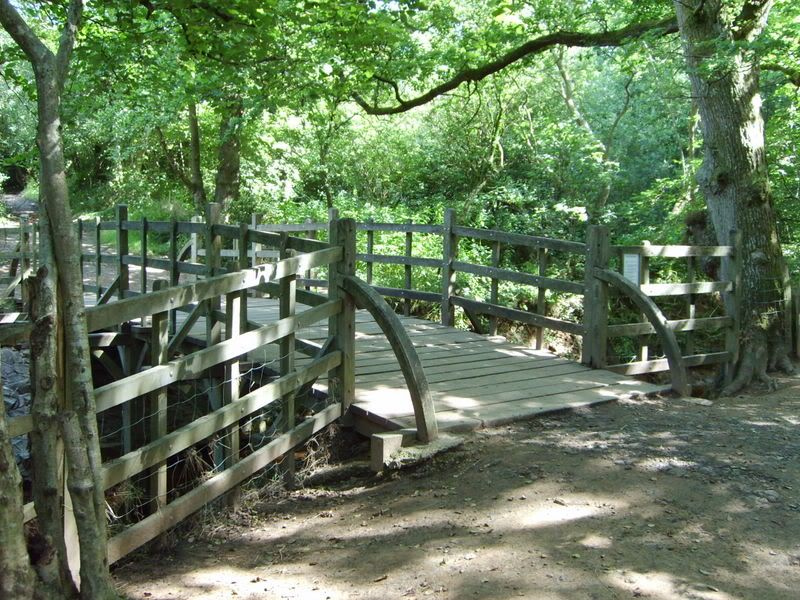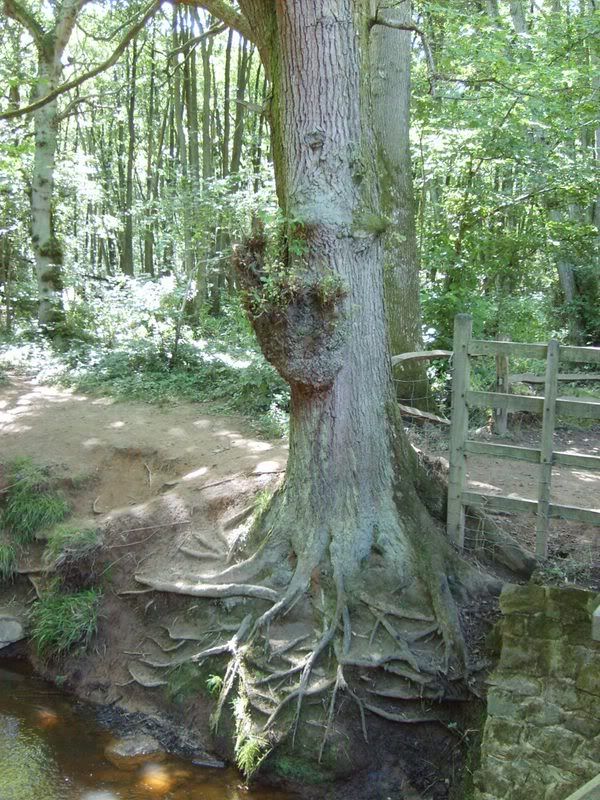 I won a few rounds, but Tiffany was the undisputed victor. For those who may not know, to play Poohsticks you gather little twigs and stand on one side of the bridge. At the right moment you drop your stick...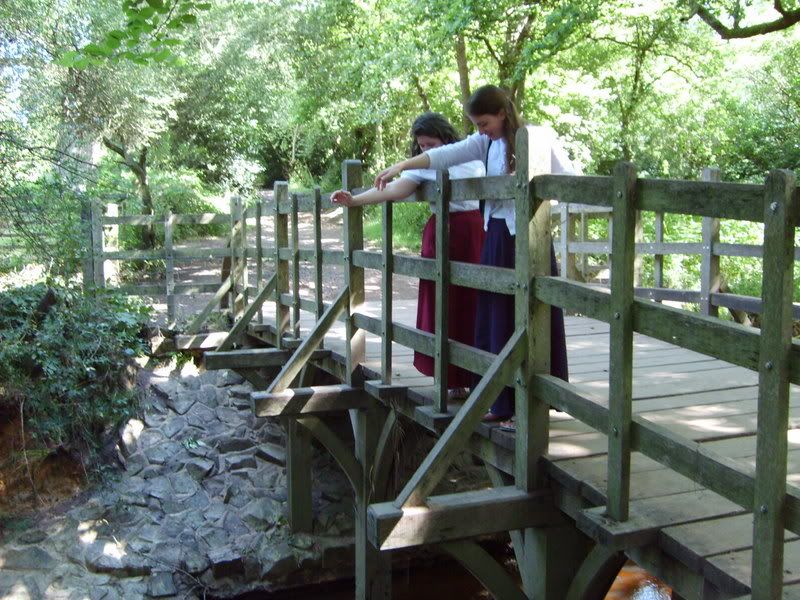 ...and then rush to the other side of the bridge to see whose stick comes out first: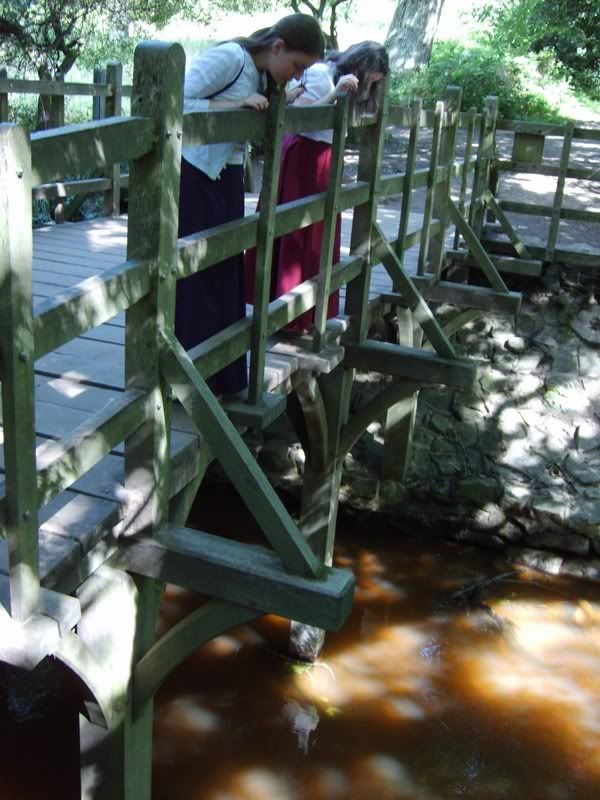 Bateman's -- home of Rudyard Kipling
We had joined the National Trust before we left (or rather, The Royal Oak Foundation, which is the American branch of the Trust – no pun intended), so we had free access to all NT properties. The first property we visited was Bateman's, former home of Rudyard Kipling.
The home was absolutely charming, and was surrounded by lovely gardens and grounds. The interior had been decorated in keeping with the Jacobean exterior. It was so comfortable and cozy, and I almost expected Kipling to walk it at any moment. He had books everywhere, and I was very pleased to see a copy of "Little Dorrit" on the shelf. Of course, they wouldn't allow pictures inside the house, but here are a few from the beautiful grounds: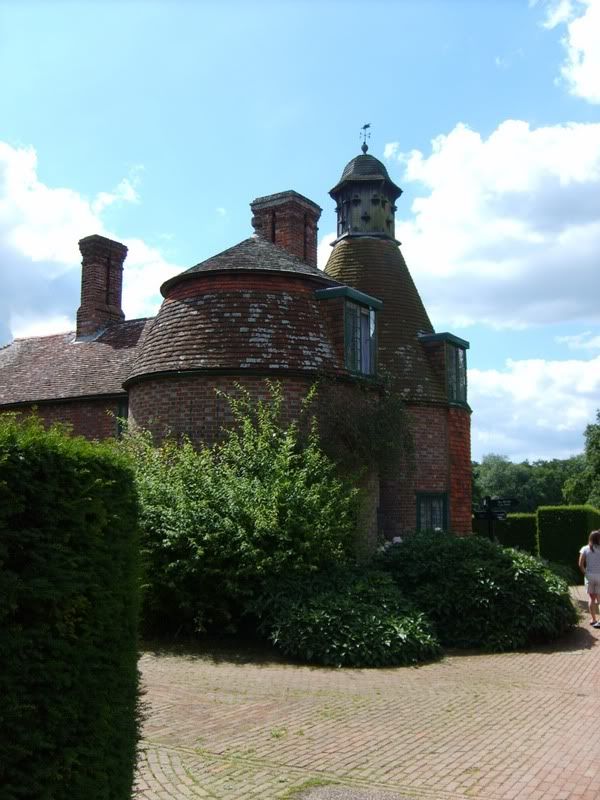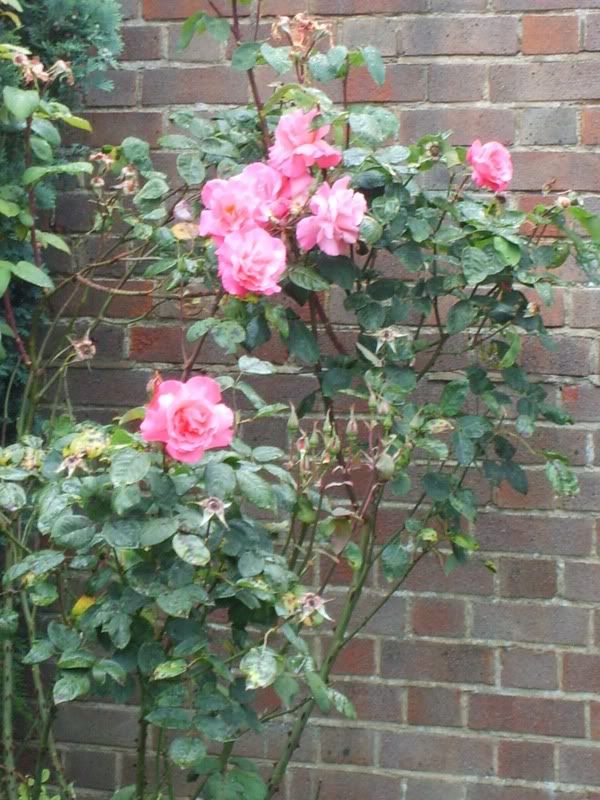 Bodiam Castle
We continued eastward to Bodiam Castle, an iconic castle complete with towers and a moat.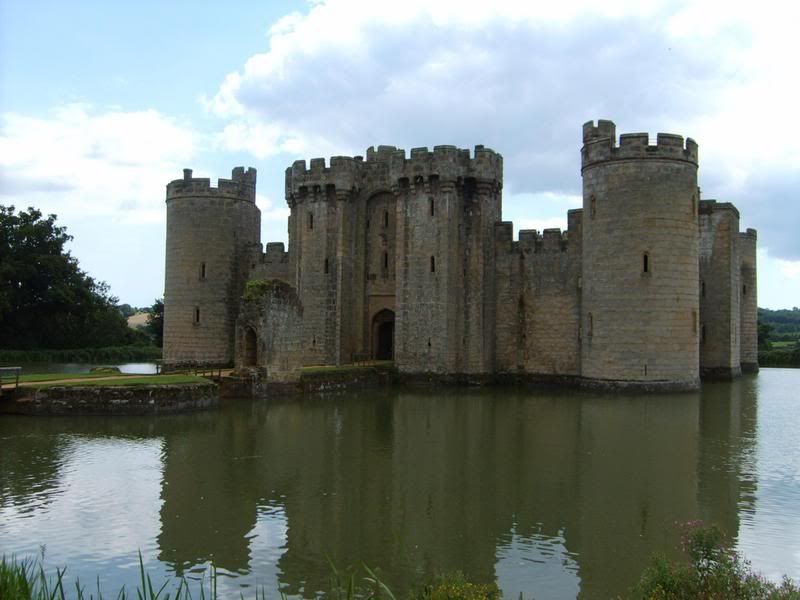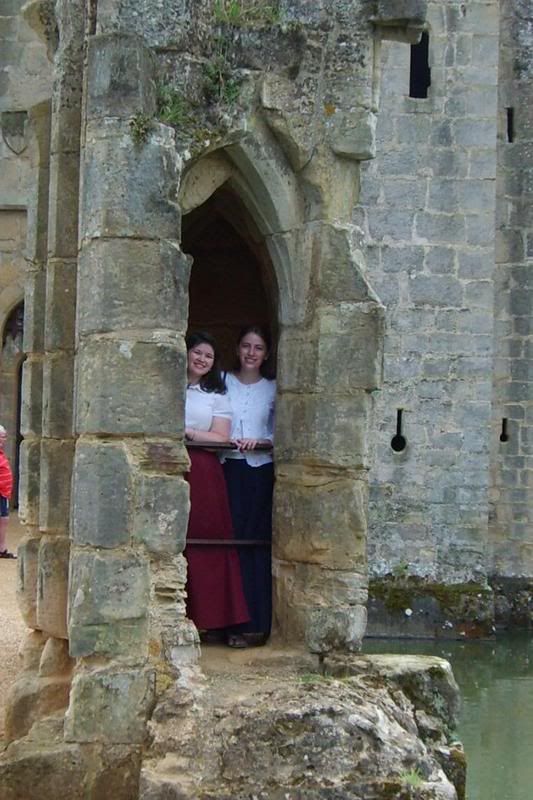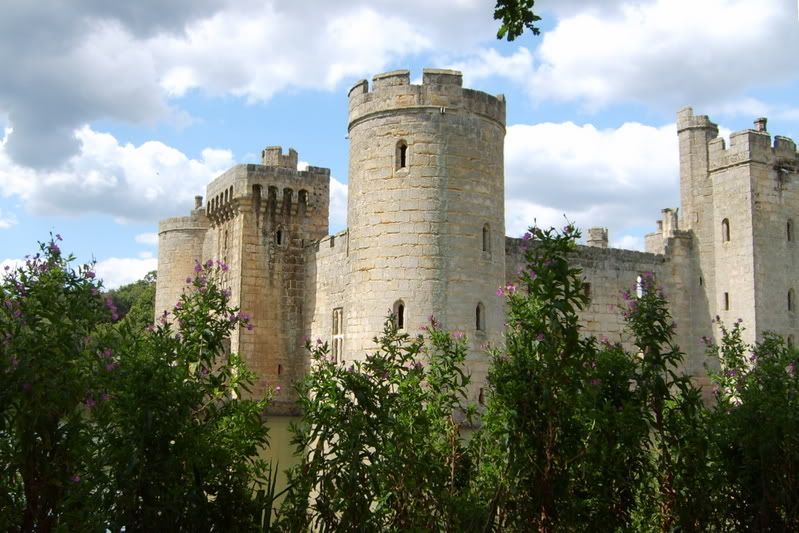 There were families picnicking on the grounds, and dozens of children enjoying the playground of a ruined castle.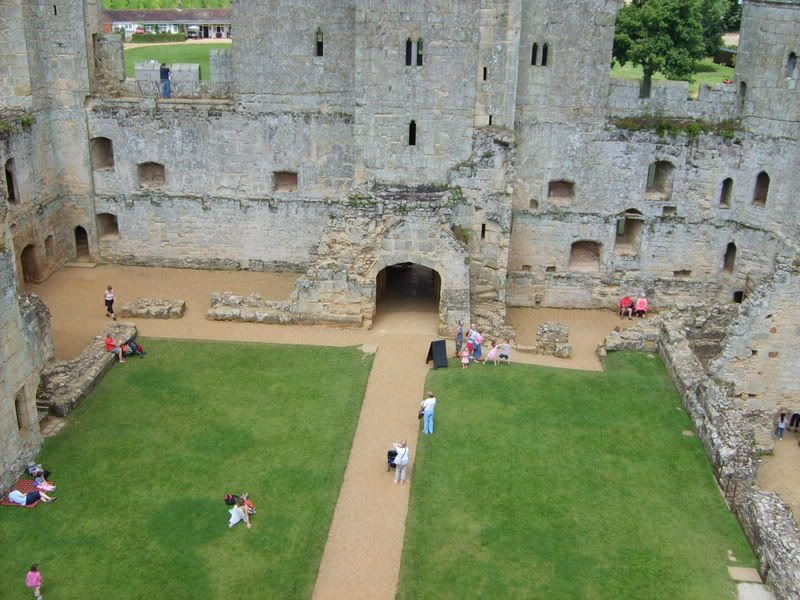 I don't know about you, but as an invader I should consider it quite inhospitable to have hot oil poured on me through these aptly-named "murder holes:"
We climbed up to the top of the tower, which gave us quite a lovely view of the countryside: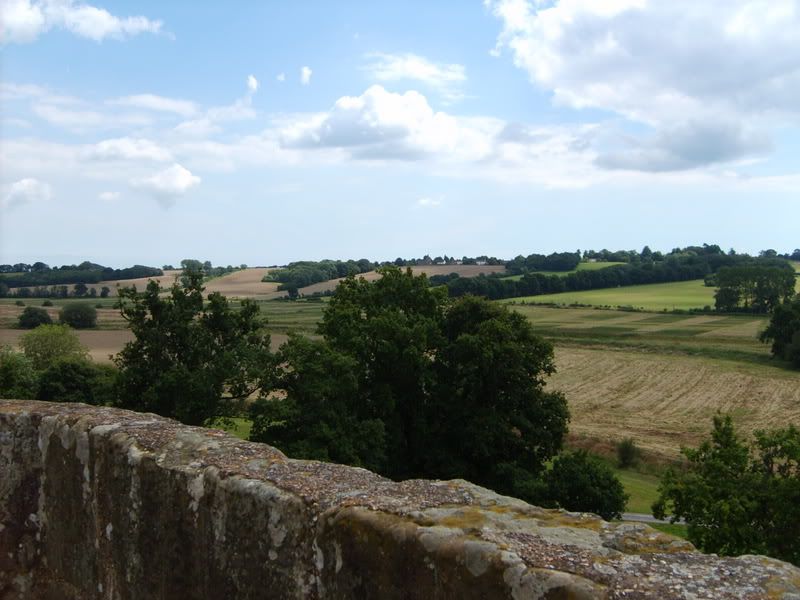 Breathtaking!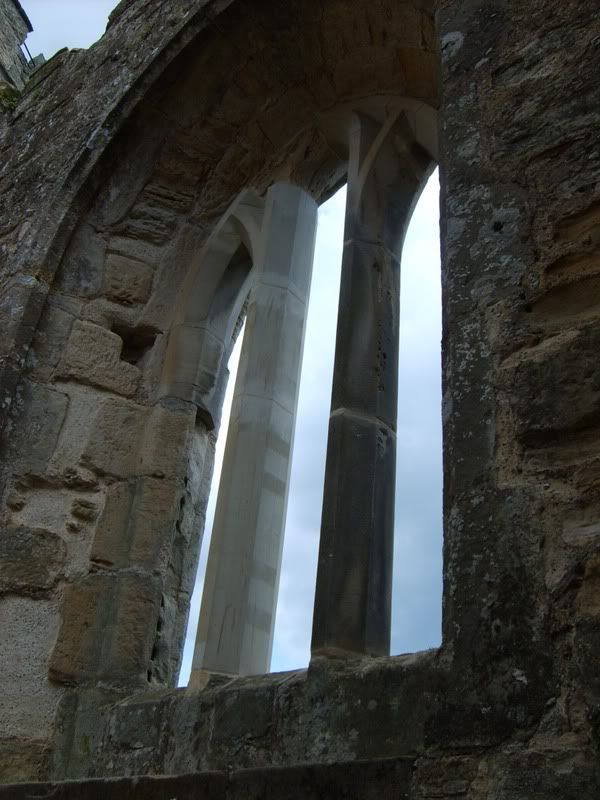 Canterbury
We reached the city of Canterbury after visiting hours for the Cathedral were over, but we decided to visit it anyway. To our surprise, people were going in and out – it was Evensong, as we soon discovered. We couldn't go into the main area of the Cathedral, but we were free to wander around the other areas. We saw the spot where Thomas a Becket, Archbishop of Canterbury, was murdered. We also pottered about in the crypt while the glorious sounds of the choir above us filtered down. Viewing all of the ancient foundations of the cathedral with that heavenly music made Canterbury my favorite cathedral of all that we visited.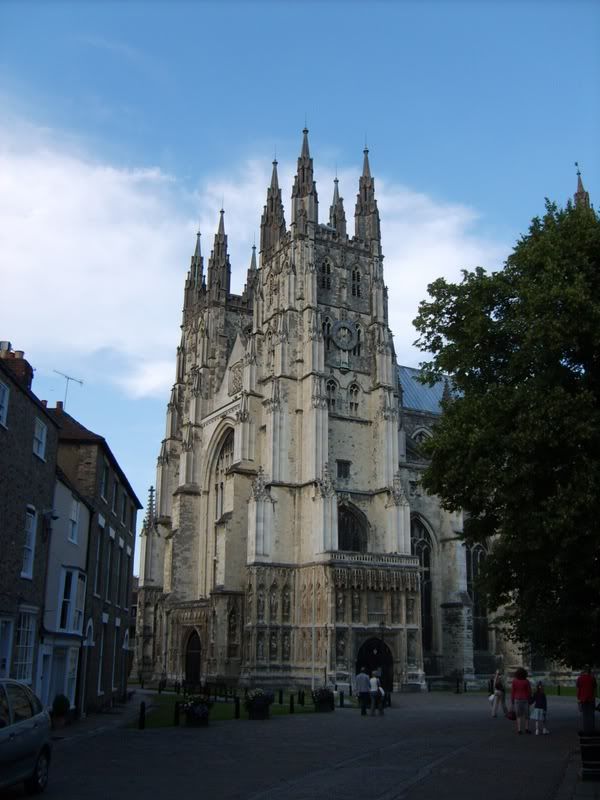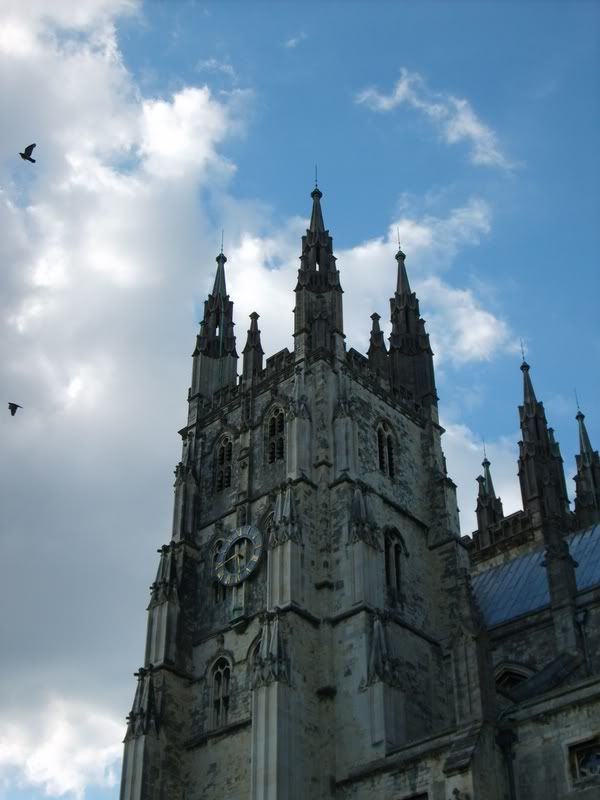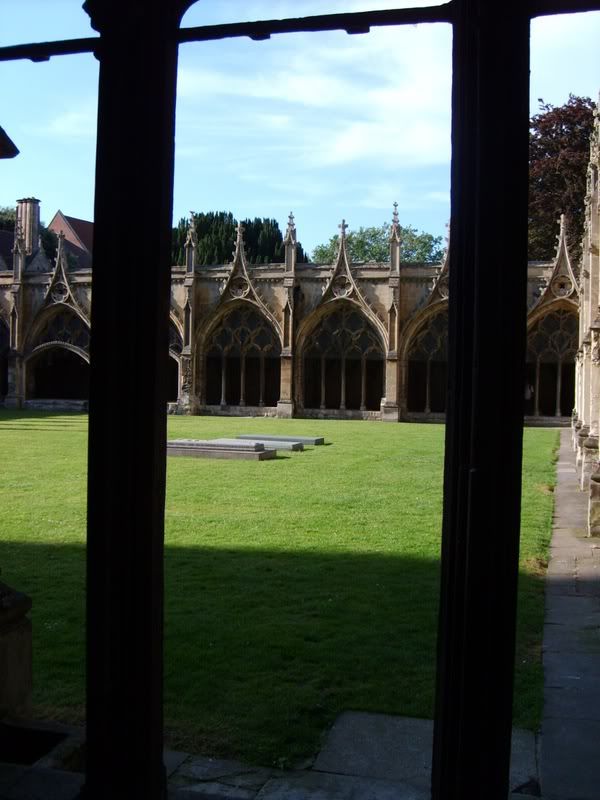 After we left the Cathedral, we wandered about the ancient city of Canterbury. It was a quiet evening, and we had the opportunity to view the city in the falling twilight.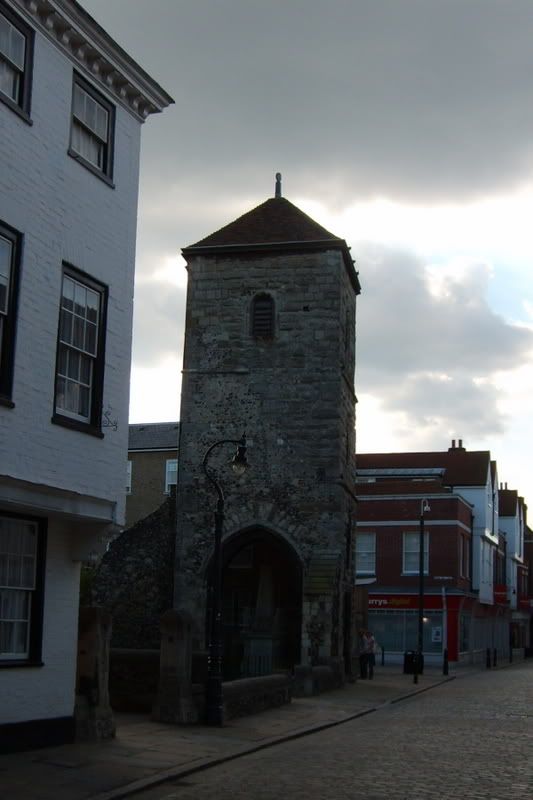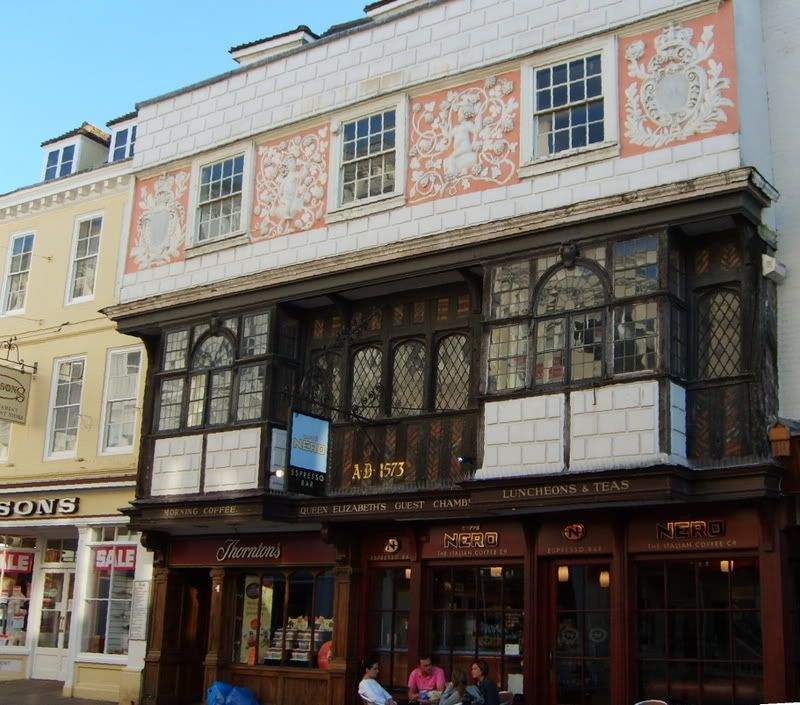 Our pilgrimage to Canterbury was certainly more impressive than the one made by Chaucher's characters --
we
traveled over 4,000 miles and crossed an ocean to get there!